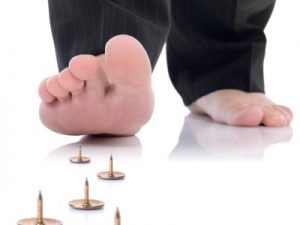 What is neuropathy?  Well opathy is a suffix that denotes a disease or disorder.  So neuropathy means there is a disease or disorder of the nerves.
Symptoms of pain, weakness, tingling, numbness and burning into the legs and feet are the most common for peripheral neuropathy pain.  Many say it feels like there is a sock balled up around their foot.  Neuropathy can also be felt in the arms and hands.
Peripheral neuropathy pain can disturb your sleep and is often most noticeable when you relax.  This is because there is nothing going on to distract you from your pain.
Most Patients tell us their symptoms are bad.  It's what they focus on during our consultation.  However, in time, we learn that neuropathy also stops them from doing the things they love or some basic daily activities.  Activities like walking the dog, exercising, gardening, taking off a lid on a can, buttoning buttons, going out with friends.
Peripheral neuropathy pain is life-changing.   It is a progressive condition.  It must be addressed.
We may have your solution.
Metabolic issues, low back problems, neck problems, slipped discs and degenerative changes, are all possible causes of peripheral neuropathy pain.
Some of the therapies we offer to give you peripheral neuropathy pain relief are:
Spinal alignments to reduce pain and to reconnect the brain and the body so everything works better.
Stimulate the nerves because healthy nerve cells require activation and fuel.
Use low level laser (called cold laser) to reduce inflammation, increase circulation, detoxify the area and bring in more nutrients.
Use a MR4 multi-pulsed cold laser therapy for deep tissue penetration for fuel for healing on a cellular level.
Use nutritional strategies to further fuel the cells for healing and to detoxify the body so it works better.
We need to know what's driving your neuropathy pain to give you rapid relief while treating the cause.
Get evaluated today.  Call (434) 939-0069 or email info@thelynchclinic.com.
At Lynch Chiropractic and Chronic Pain Solutions, we don't treat conditions.  We help people identify and eliminate the interferences to their health so they can regain and maintain their health. If you'd like further information on how we help people get peripheral neuropathy pain relief, watch the video below.  Dr. Lynch explains the cause of nerve damage and foot pain and how he may provide you with rapid relief while addressing the underlying problems.